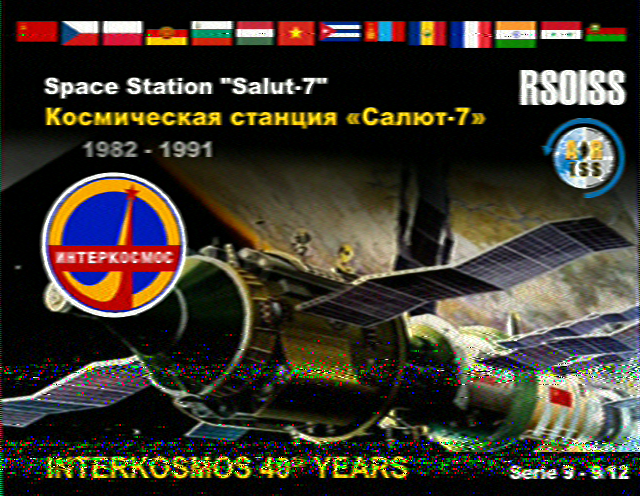 The International Space Station is currently running a special SSTV event to celebrate the Russian Cosmonautics Day. Amateur Radio operators are able to receive images from the ISS with nothing more than a VHF radio.
The event started April 12th, and runs until April 14th at 18:20 UTC. The images are transmitted on 145.800Mhz using the PD-120 SSTV mode. When the station is overhead, the signal can be picked up without any special satellite equipment, meaning anyone with a radio connected to a computer has the chance to catch one of the transmitted images. The folks over at AMSAT have an excellent pass prediction system. Simply select the satellite you want to track, enter your grid-square, and you'll get a list of the next several passes for your location.
I received the image above using an attic-mounted Diamond X30 with the ISS ~40 degrees above the horizon. Just a standard vertical 2M/70cm antenna, no aiming required! The sound signals were captured through a SignaLink connected to my radio, and I used the MMSSTV software to decode the image.
This is an excellent event, and a great way to get amateur radio operators involved in both SSTV and satellite work. So take a look at the pass predictions, and see if you can catch some images from space!